Style director Louise Hilsz catches up with Sydney-based make-up artist (and personal friend) Leah Baines. Here's why she is a beauty trailblazer.
From the age of 19, Leah and I have shared a mutual love of beauty. Her passion was make-up, mine the beauty that comes with a wardrobe of colourful designer fashion. It was while Baines was living in Queenstown that she entered a Cleo magazine competition and won a year's scholarship in make-up artistry in Auckland. She honed her skills working for MAC and is now a freelance hair and make-up artist who counts brands like Ruby, Bondi Sands and Sass & Bide among her top clients. Today Baines is in hot demand as a hair and make-up artist in Sydney, where she lives with her fiancé. A self-confessed seflie queen, Baines shares her insider tips and tricks for getting flawless skin and reveals the products she just can't live without. Here's a slice of her beautiful life.
What's a typical working day for you?
The best thing about my job is that every day is different. I do three to four, sometimes up to six, jobs a day. These range from photoshoots and advertising campaigns to weddings and private beauty jobs. I love zipping around the city, going from location to location.
What do you love most about working in the beauty industry?
I am a massive product fiend. I love trying out new skincare and make-up products and experimenting with new trends on my clients. Make-up is my creative outlet – I'm lucky to do this as my job!
What's your career highlight to date?
Oh, I literally feel like every day and every job is a wee highlight in its own way. I've had the chance to work with some incredible models, such as Belle Lucia, Kayla Itsines, Steph Claire Smith, Georgia Gibbs, swimmer Stephanie Rice, Michaela Wain, Miss Universe Australia Olivia Rogers, Samantha Harris and NZ's fitness babe Kirsty Godso. I've also worked on some awesome campaigns for Bondi Sands, Sass & Bide, Ruby, Showpo, Hello Molly, Lioness, Nookie, Peppermayo, Witchery and Myra Swim.
What advice do you give to your clients?
That less is more! I'm all about letting your natural beauty shine through and not being masked by layers of make-up. Embrace what your mamma gave you!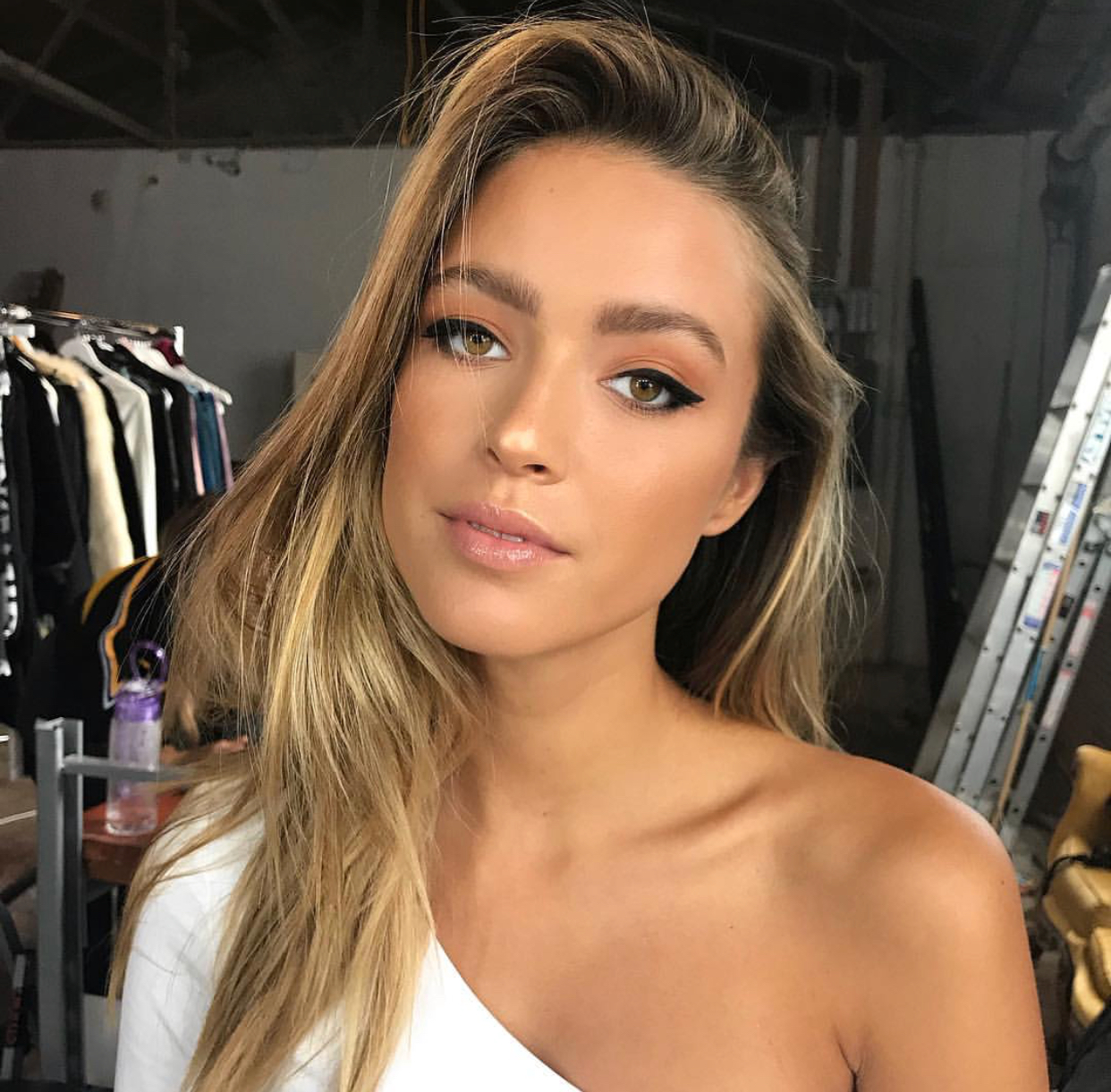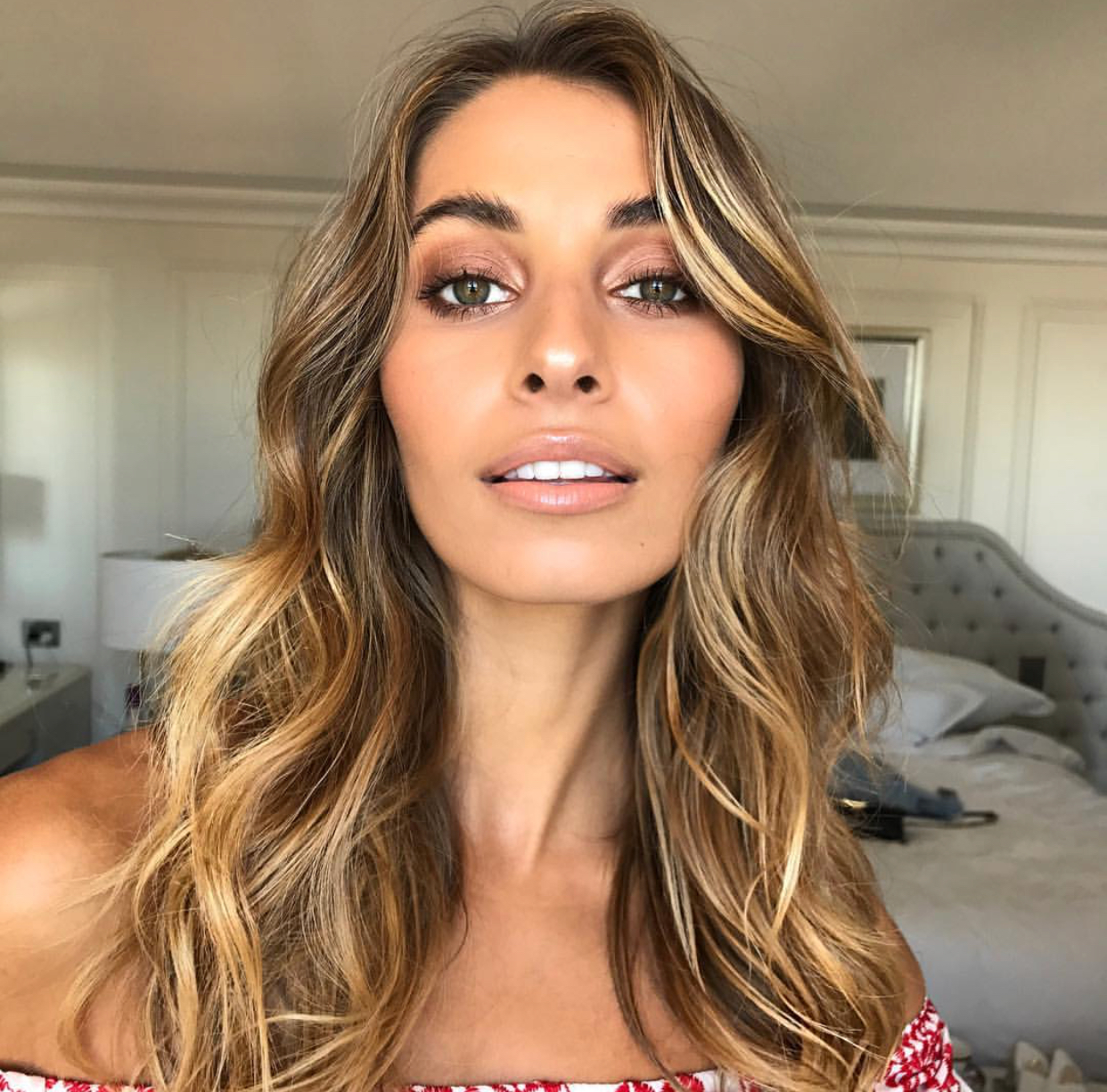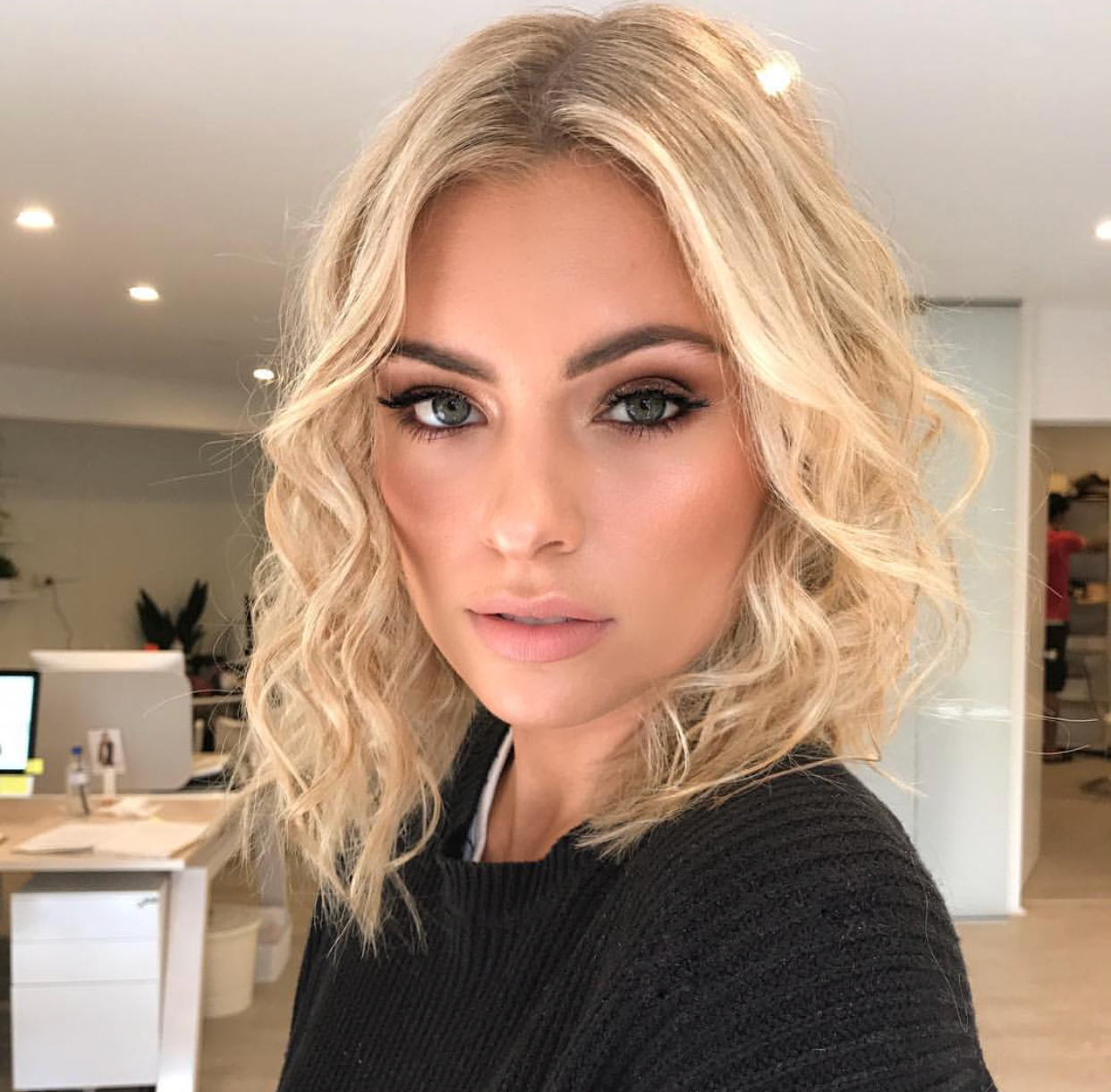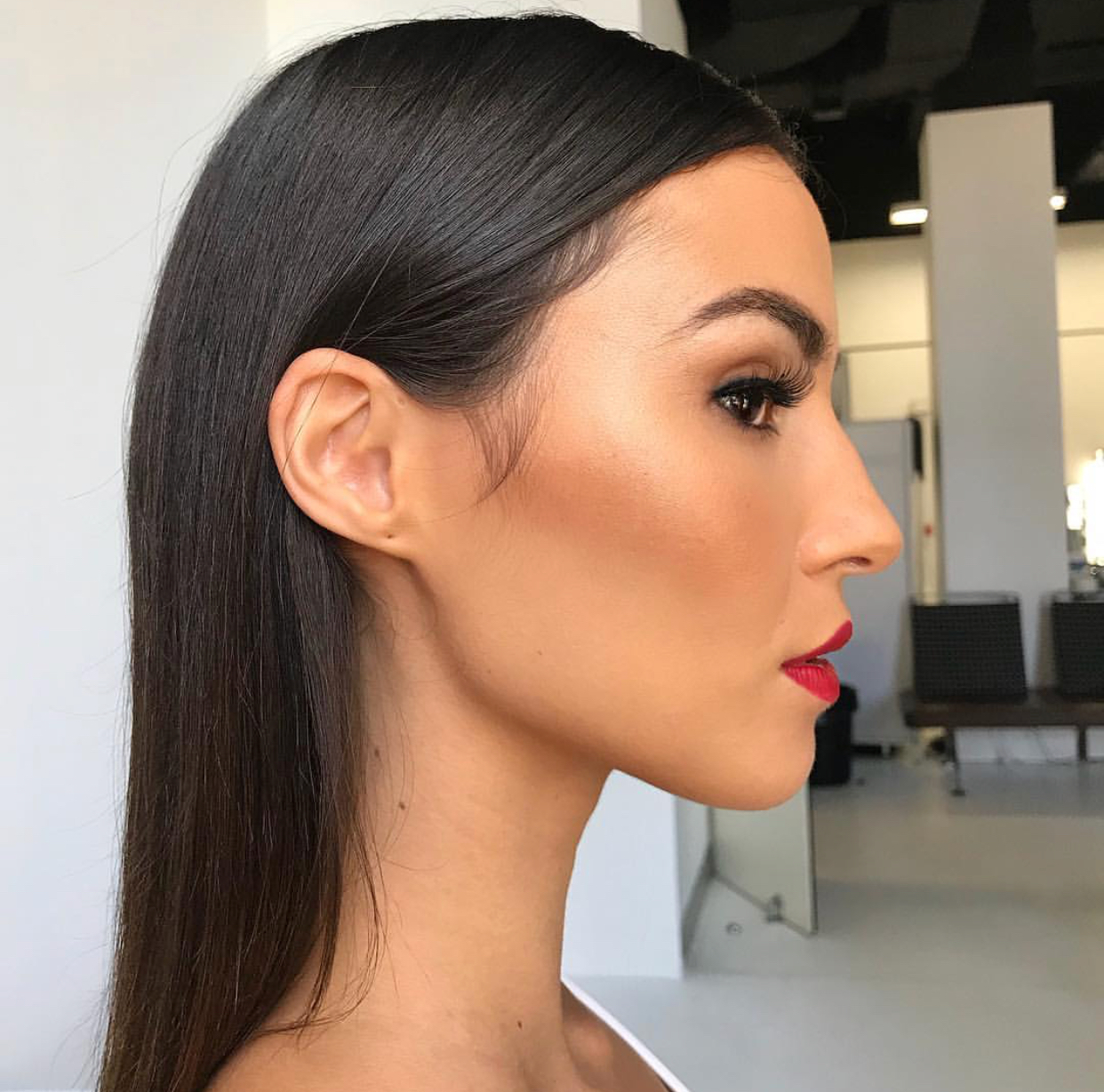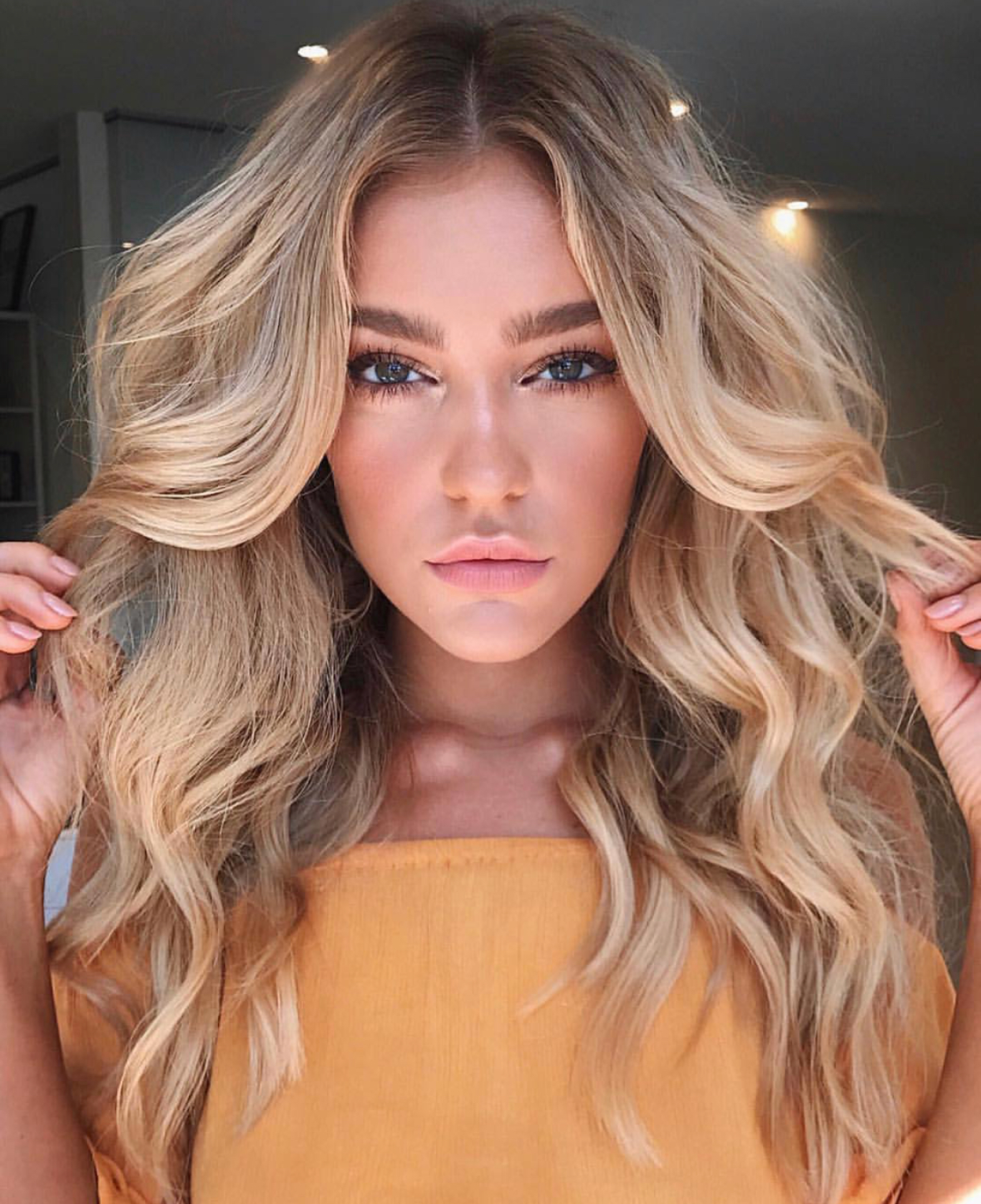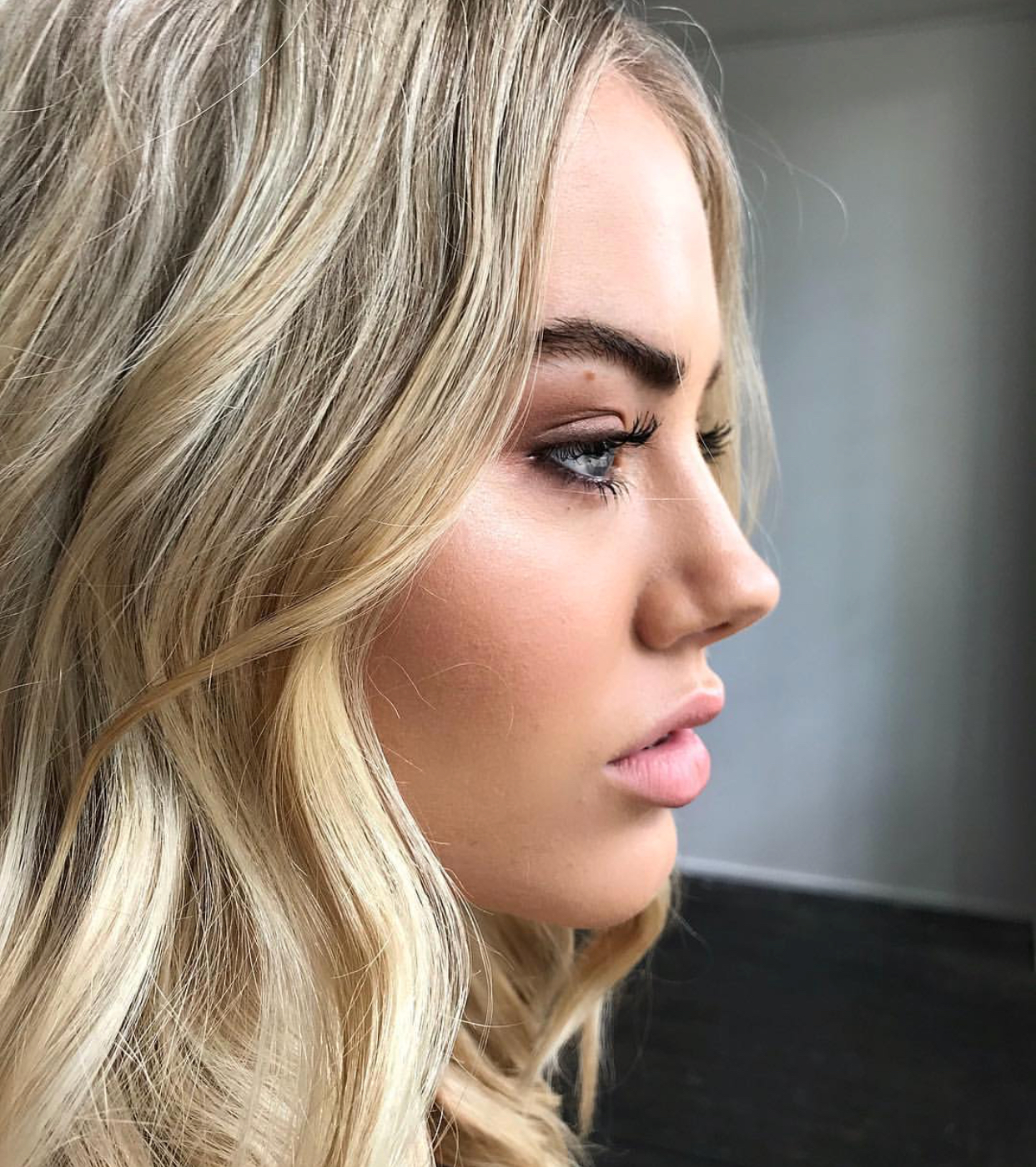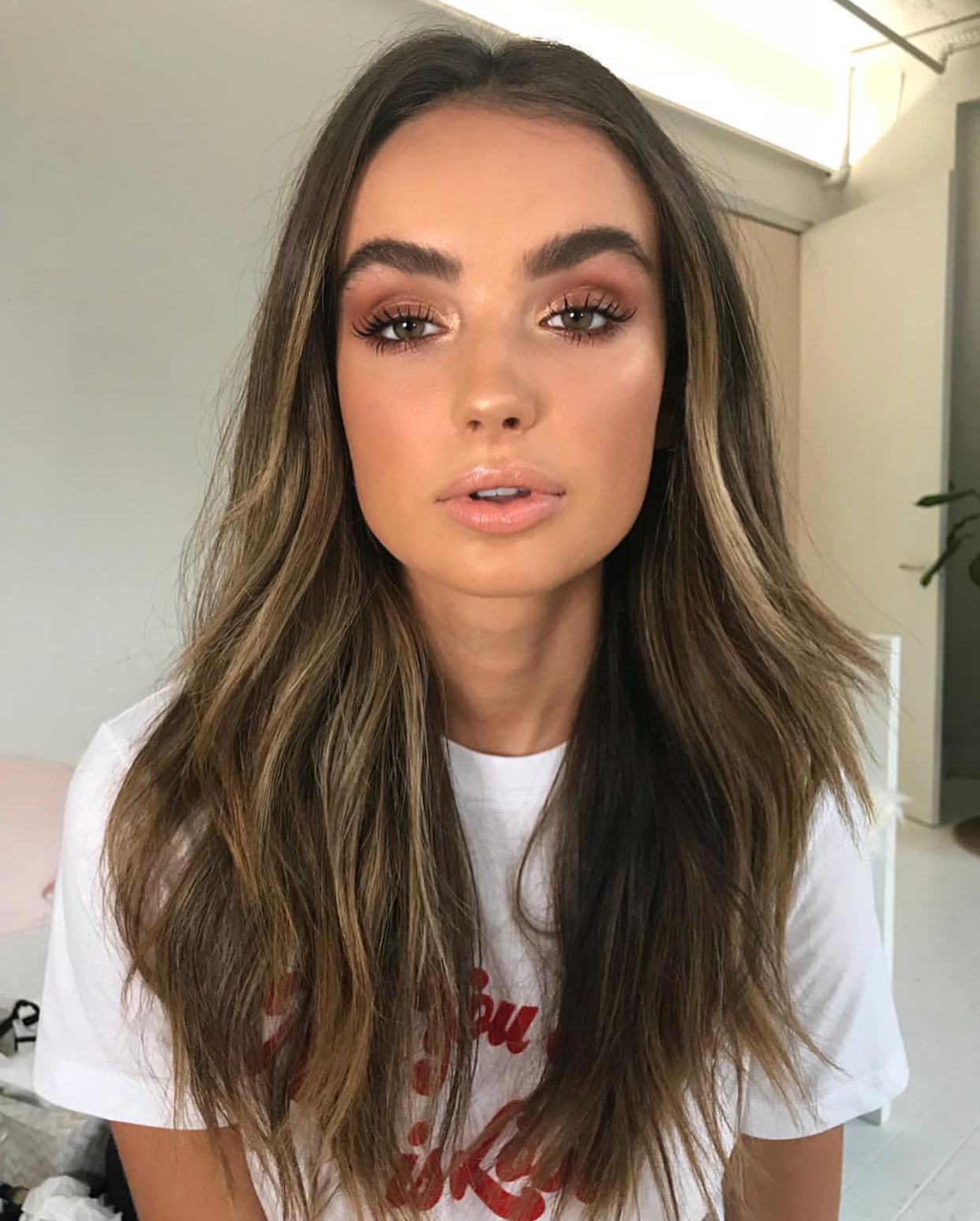 A highlight of some of Leah's work showcased on her website leahbainesmua.com
Which beauty trend are you most excited about right now?
Raw, brushed-up brows – my fave!
When you start a celebrity's make-up, what is the first thing you reach for?
My kit staple is La Mer The Treatment Lotion and I also apply Ole Henriksen Banana Bright Eye Crème. It's all in the prep. My favourite part of doing make-up is the skin, starting from scratch and building up a beautiful, luminous base.
What product are you never without?
My eyelash curler and a voluminous mascara. I love the Dior Diorshow and Too Faced Better Than Sex mascaras. For my clients, it's the perfect highlighter for the particular look we are creating – be it cream or powder, I always apply a highlighter.
What is your desert island highlighter?
MAC Extra Dimension Skinfinish in Oh, Darling and Hourglass Ambient Lighting Powder in Luminous Light. I can't choose just one, I have so many favourites!
How can we take our make-up from great to amazing?
It's all down to your base. If your foundation is thick, matte and dry, it will make you look so much older. Think sun-kissed holiday skin when doing your make-up and aim for a base that is fresh, light and dewy.
Are you a gloss or lipstick girl?
Gloss all the way! If I wear or apply lipstick to a model it's always a creamy finish.
What brushes are essential?
I love a good fluffy brush for every part of the face – the softer it is, the easier it is to blend. The best foundation brushes are MAC 130 and Hourglass Seamless Finish. For concealer, I use the Zoeva 142 Buffer and for the eyes I love MAC's 217, 224 and 283 brushes. I stay away from synthetic brushes as they don't blend as well as natural hair. Good-quality brushes are the best investment for your beauty bag.
What are your top beauty tips?
Drink plenty of water and look after your skin! If you have good skin, your make-up will always look better. Another wee beauty hack I've always lived by is heating my eyelash curler with a hairdryer for a few seconds before I curl my lashes – the difference it makes is truly amazing. Also, instead of using a heavy eyeliner, try applying a darker eyeshadow along your lash line as this will make your eyes appear much softer and bigger. It doesn't have to be super neat either, the smokier the better!
What's your beauty routine?
My day-to-day beauty routine is pretty unfussy as I'm usually too busy making everyone else look glam and end up with about 15 minutes in the morning to do my own make-up. I wear Giorgio Armani Lumious Silk Foundation, Dior Diorshow mascara after curling my lashes, a bronzey/terracotta-coloured eyeshadow and then finish off with a dusting of Tom Ford Sheer Highlighting Duo over the high points of my face.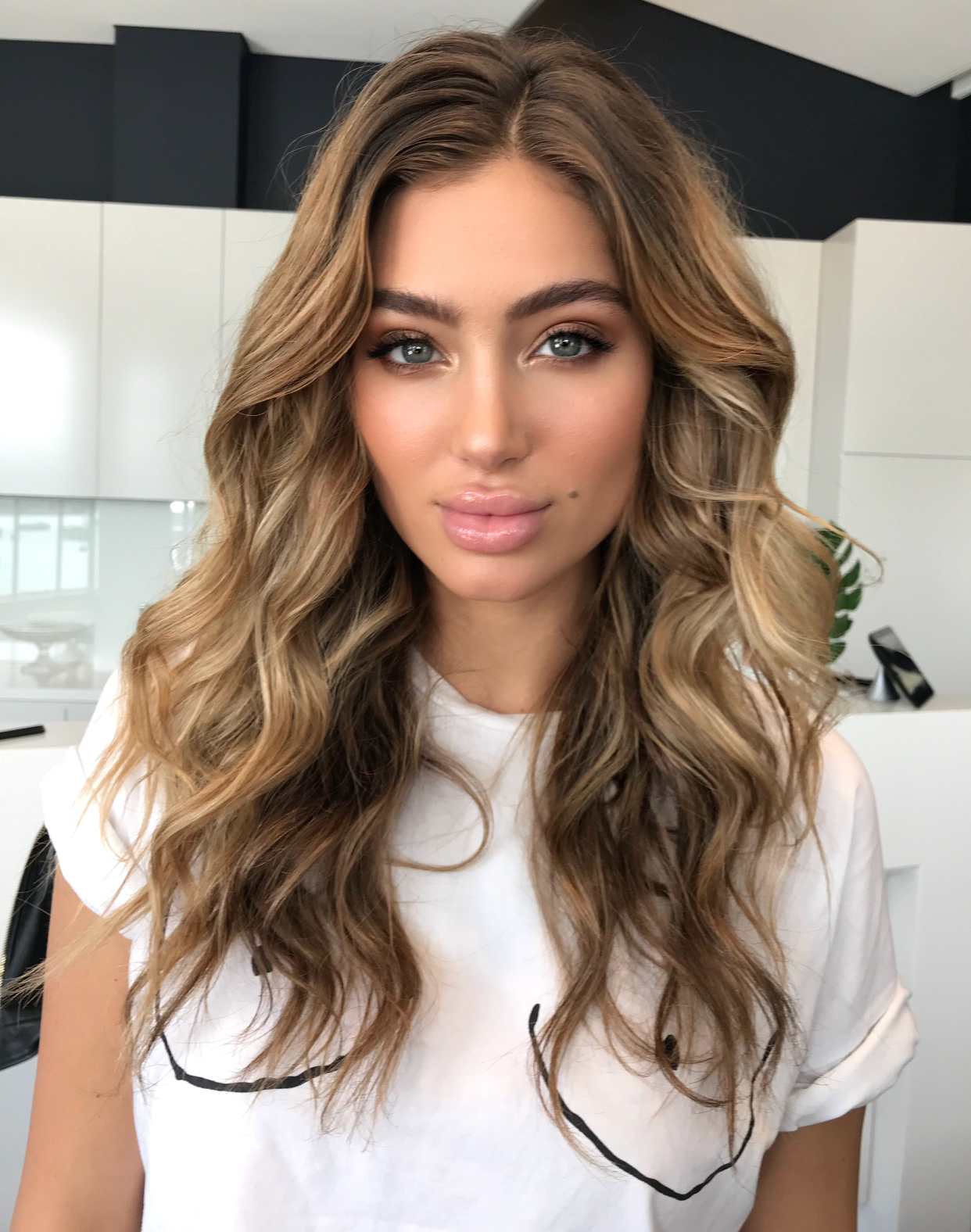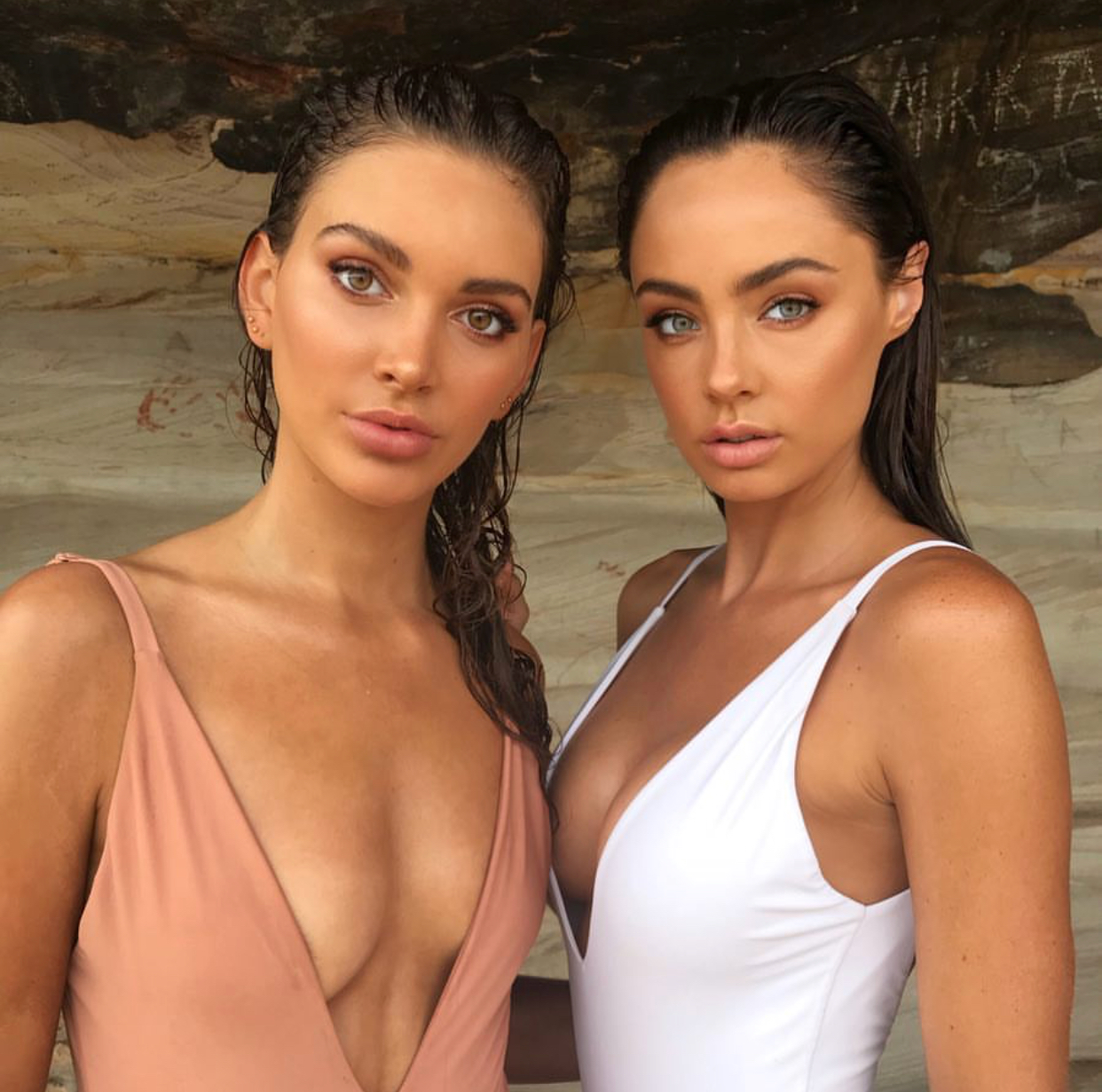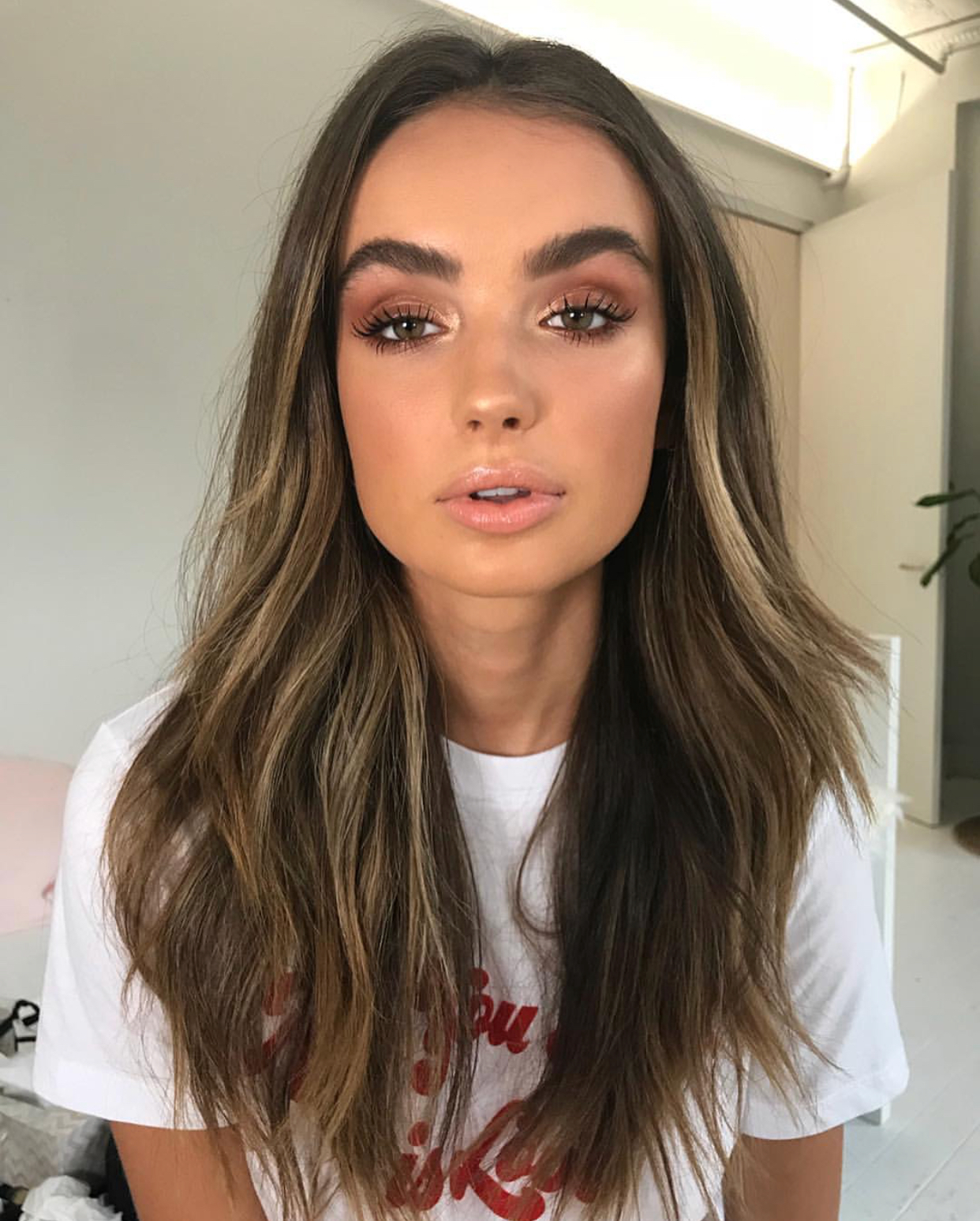 What products do you carry in your beauty bag?
I always have a concealer on hand, either MAC Studio Finish or IT Cosmetics, for a quick freshen-up between jobs. I just dab a layer under my eyes for an instant lift. I also have a mini Too Faced mascara to freshen up my lashes, MAC lippy in Pure Zen, Tom Ford Ultra Shine Lip Gloss in Naked, and a Commodity fragrance mini.
What's your skincare routine?
How much time do we have!
I'm forever trying new lotions and potions, however my staple morning routine consists of cleansing, firming and hydrating serums, moisturising eye cream and a moisturiser with SPF 30 – all by Ultraceuticals. Every night I sleep in a different mask, like Laneige Water Sleeping Mask and Lip Sleeping Mask or Jurlique Rose Moisture Plus Moisturising Cream Mask, depending on how my skin is looking and feeling that day.
What beauty treatment do you swear by?
When I get some free time you'll find me at the spa indulging in a facial, I love a good treatment. Favourites include a blueberry peel and LED light session.
What's your favourite skin primer?
Laura Mercier Radiance and Tom Ford Illuminating primers are my top two.
Do you have a favourite foundation?
I have six different foundations in my kit. My top three are: NARS Sheer Glow for a medium-coverage natural finish (I like to use this for most photoshoots); Giorgio Armani Luminous Silk for lighter coverage and a natural, silky finish (I use this one for more natural photoshoots); and Estée Lauder Double Wear for medium to full coverage (best for weddings, outdoor shoots and longer days).
Best brow products?
MAC's Brow Duos and pencils finished off with Benefit 24-hour Brow Setter.
Best lip product?
Bite Beauty Agave Lip Mask is my go-to for prepping lips for make-up. It hydrates for hours.
What's your favourite fragrance?
Currently I am wearing and loving Rose des Vents by Louis Vuitton.
What are your favourite make-up products at the moment?
I can't live without these four products when I'm doing make-up:
Urban Decay All Nighter Long Lasting Makeup Setting Spray, $54. Hourglass Ambient Lighting Bronzer, $79. Tom Ford Soleil Double Decker Eyeshadow in Naked Bronze, $78. Smith & Cult Book Of Sun Blush/Bronzer Duette, $67.